At GH CITYPRINT we are very conscious of our responsibility to the environment. Our paper suppliers' source sustainable reputable brands, while we minimise waste and save energy and resources in every way we can, power down everything, using both sides of paper (internal use only) before recycling, stuff like that. However, we must apologise though, until recently we have been using plastic boxes for sending out business cards, hoping that our clients would either reuse or recycle these. We really should have been asking this or requested them back to reuse/recycle from day one.
'Recycling Plastic feels fantastic!'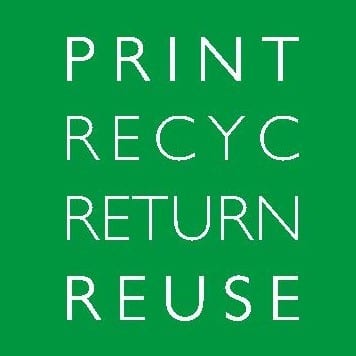 We still have a small supply of the plastic boxes remaining and plan to use these for as long as they last. But now we have decided to convert to 'card' boxes for the business cards starting in January 2019, look out for our new business card boxes soon. Even though the card boxes can be recycled, this should be the absolute final resort. We want to reuse first, as many times as possible before having to resort to recycling.
'Just think before you bin it, there could be some use in it!'
We can supply a simple GH RECYCLING BOX for you to deposit the business card boxes (and plastic versions please), A4 & A5 boxes, wrapping paper, poster tubes, rubber bands and our carrier bags. We will be attempting to wrap your jobs without using tape in order to make it easier to open and reuse. Any address labels will be removed, or a new label overlaid to protect privacy.
'Together, we can save the world.'
Contact us to ask for a GH RECYCLING BOX or recycle one of your own and contact us when you need it to be collected. We will also make a donation to a local charity for each GH RECYCLING BOX collected.
'Help us save the planet, one box at a time!'
I hope you can help us with this initiative. Times are changing and anything we can do to recycle or reuse the materials we have will make a difference, however small, but when those small differences are put together it can make a significant impact. We hope you will get involved with our scheme and recycle with us.
Visit GH Cityprint to find our more or sign up to our Quarterly Newsletter.